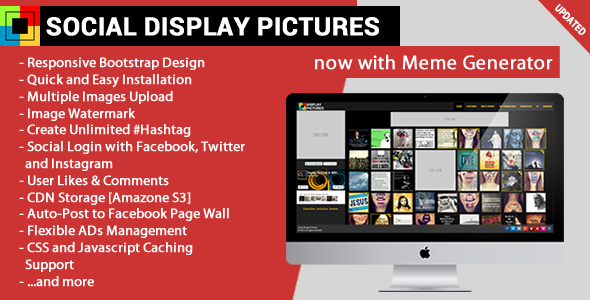 ---
Released
July 25, 2015 12:00 am
Updated
August 30, 2016 12:00 am
---
Social Display Pictures is a viral photo sharing script. If you post motivational, inspiration & wise quotes regularly on Facebook, Twitter or Instagram then you need this script. With Social Display Pictures script, you can create a website for your visitors to download and share your memes and funny joke in image format.
You can choose to allow downloads by users only or publicly. You can also allow tags by users, likes by user and so on.

Demo Page: https://socialdp.silasolatayo.com/
Admin Demo: https://socialdp.silasolatayo.com/manage/
Live Website using this script : https://socialdp.com/
Features
Meme Generator (v.3)
Now Support Animated GIF (v.2)
—-—-—-—-—-—-—-—-—-——-
Quick and Easy Installation
Upload Multiple Images
Drag & Drop Upload
Image Cropping and resizing
Set Maximum Upload File Size
Image Watermark
Watermark Placement
CDN Storage [Amazone S3]
Local Back-up Afer CDN Upload
Save Clean Copy After Wataermarking.
Create Multiple/Unlimited #Hashtag
Analytics Dashboard with graphical dispiction of App statistics
Ajax Content load for Admin Panel
Social Network Links
Twitter Badge
Facebook Page Badge
Facebook Comment
Auto-Post to Facebook Page Wall
Manual post to Facebook Page Wall
Social Login with Facebook, Twitter and Instagram
Ban and Delete a User with all the User's Content
Allow User Access
Allow User Upload
User Upload Approval
User Permission to Download and Like Picture
User Comments
Send Welcome Mail to Users
Featured Post Styling
Infinite, Load More Button & Pagination options
Set Result per Page
Set Relative PostResult per Page
Random Display Mode
Enable Image Lazy Load
Flexible ADs Management
Responsive Bootstrap Design
Simple Theme Manangement with Color Picker
Fullscreen and Boxed Layout
Sidebar Positioning
Disable Right-click
CSS and Javascript Caching Support
HTML, Inline CSS & Javascript Compresssion
Extra Header & Footer CSS/JS/Meta
Social Meta Tags
TOS, Privacy & Disclaimer Pages Management
Very Easy to Use platform and so well self-explainatory
Google Captcha for admin login threshold
Requirements
Apache or Nginx
PHP Version 5.5+
MySQL 5.0+
MySQL PDO Driver
PHP Mcrypt
PHP cURL
PHP GD Library
Support
If you have purchased this product and you have questions, please don't send email. Support for this product is provided on the comment section on Codecanyon. Pre-sale questions are also welcome on the comment wall.
Please rate us if you like the idea and script. THANK YOU!!!.