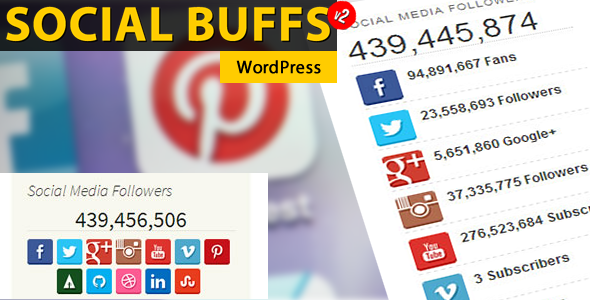 ---
Released
March 20, 2013 12:00 am
Updated
September 13, 2013 12:00 am
Category
WordPress Plugins
---
A Wordpress widget for fetching, aggregating and displaying your social media followers/activities. The plugin currently sum your Facebook page fans, Twitter followers, Google+ Page Page CircledBy count, YouTube subscribers, Youtube views count, Youtube total upload views, Instagram followers, Vimeo subscribers, Forrst followers, Github followers, Dribbble followers, LinkedIn share count, Pinterest URL count and StumbleUpon share count.

Demo Page: http://demo.silasolatayo.com/social-buff/
Features
Facebook — Get the number of fans you have on your Facebook page.
Twitter — Count the numbers of Twitter followers.
Google+ — Get the numbers of Google Plus page
Instagram — Get the numbers of Instagram followers
Youtube — Get total Youtube subscribers. You can sum up the Subscribers, View Counts and the Total Upload View Counts.
Vimeo — Get total Vimeo Channel subscribers.
Forrst — Get the numbers of Forrst followers.
Github — Get the numbers of Github followers.
Dribbble — Get the numbers of Dribbble followers.
Pinterest — Count Pins for the URL you specify.
LinkedIn — URL shared count on LinkedIn.
StumbleUpon — Count the number of stumbles on a specific URL.
Store previous counts for each social media incase the new API request response failed. This eliminate ZERO (0) count.
Icon Arragement — Arrange the icons in the order in which you want them to appear.
Display type — You can choose from horizontal or vertical display.
Tooltips — Multiple tooltips colors and positions.
Hover text & Language customisation — Now you can enter your preferred hover text content in your desired language.
Cache expiration time.
Requirements
WordPress 3
PHP 5.3+
PHP cURL
Installation
Upload the social-buffs folder to your WordPress plugins folder ( /wp-content/plugins/ ) Activate the plugin via your WordPress plugins page.
Go to Appearance -> Widgets in your Wordpress admin
. Add Social Buffs to one of your sidebars; if your theme supports one. Configure your social buffs(
Check the Configuration & Usage section in the documentation
) and you are ready to roll!
Support
If you have purchased this product and you have questions, please don't send email. Support for this product is provided on the comment section on Codecanyon. Pre-sale questions are also welcome on the comment wall.