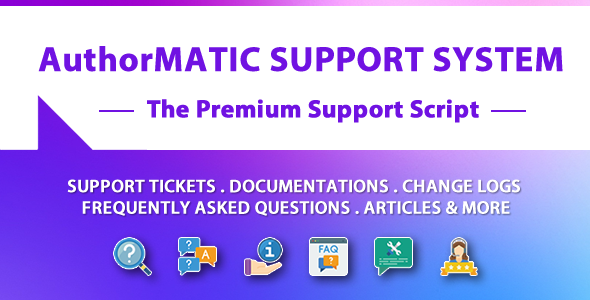 ---
Released
February 2, 2020 12:00 am
Updated
February 12, 2020 12:00 am
---
AuthorMATIC is a dynamic support system with Knowledge Based Articles, Documentations, Frequently Asked Questions, Change Logs and Sales Report much more.
AuthorMATIC was created with the sole intention of managing customers request and guiding your users how to go about using your products and services. With AuthorMATIC, your customer service experience will never be the same.
Features
Easy step-by-step Installation
SEO Friendly
Super Fast and Light Weighted
Cross Browser Support
Responsive Design and Mobile Friendly
Based on Bootstrap 3+ for Admin Interface
Google Font Integration
Analytics Dashboard with graphical depiction of App statistics
Google Analytic Dashboard
Timezone and Date Format Integration
Site Maintenance Mode
Assets Compression & Caching
Permalinks/Base Management
Image Cropping and resizing
Set Maximum Upload File Size
Image Watermark
Watermark Placement
Save Clean Copy After Water-Marking.
Users Management
Multi-Authentication via Social Platforms
User Input/Data Control
Users Activities Logs
Role Based Access Control (RBAC) with CRUD
Product Management with Import from Envato
Service Manager; Free and Paid Services
Support Ticket Management
Ticket Categories per Product
Ticket Assigning to Managers
Canned Ticket Response
Knowledge Based Articles with Categories, Tags, Ratings and Comments
Documentation per Product
Documentation sorting and re-ordering
Frequently Asked Questions per Product with Categories and Sorting
Product Change Logs
Change Logs Versioning
Change Logs Type - Added, Enhanced, Fixed or Removed
Dynamic and Static Page Generator
Media/File Library
Appearance/Theme Customization
Menu Management
Widget Management
Multi-Language Management with Auto-translator by Yandex
Module Base and Plugable Application
- Google Analytics Plugin
- Cookie Consent
- External Links Mask
- Social Meta Tags
- ADs Manager
Easy Mail Manager
Mail Templates and Logging
CDN Storage [Amazone S3] and Content Syncing
Disposable Email Validation Service Integration
Cron Job Manager
URL Redirect
Application Errors & Exception Logging
Import/Export Application Settings
One Click Application Optimization
System Information Overview
Application Auto Update [Coming Soon - CS]
Product License Manager [CS]
Requirements
Apache/Nginx
PHP Version 5.6+ (v7+ preferred)
MySQL 5.6+ / MariaDB 10.1+
MySQL PDO Driver
PHP OpenSSL
PHP cURL
PHP GD Library
PHP BC Math
This APP is intended for long term use and it will be updated regularly. I can assure you that.
PLEASE NOTE: Nothing is perfect, no matter how beautiful and perfect it may look. There is always room for improvement. Before you drop a negative rating(lower than 5 stars), kindly let me know what you think can be done and I will try to fix it. Thanks.